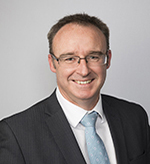 Andrew Davies, Chief Executive Officer
Since joining VMIA in 2015, Andrew has led the continued development of VMIA's risk and insurance offering, and, formerly as Chief Insurance Officer, was responsible for the Authority's insurance, reinsurance, claims and insights activities.
With a background in management consulting and change leadership and having worked globally in executive roles across a diverse range of industries, Andrew brings clear strengths in transformational leadership, a detailed appreciation of VMIA's operations and a passion for delivering real value for the state of Victoria.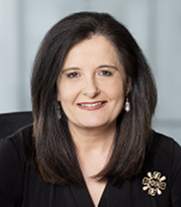 Efy Karagiannis, Chief Officer Domestic Building Insurance
Efy is responsible for VMIA's Domestic Building Insurance program, delivering insurance services and solutions to over 18,000 residential builders across Victoria. She has a genuine passion for leadership and building performance-driven teams who thrive in environments of continuous disruption and constant change. Efy has a Bachelor of Applied Science & Construction Management from RMIT University in Melbourne. Previously a member of the Victorian Architects Registrations Board and was the first female president of the Victorian chapter of the Australian Institute of Building. She was awarded the prestigious NAWIC Crystal Vision Award in 2011 for advancing women in the construction industry and IPAA's 2019 Top 50 Women in Public Sector Award for her leadership on the launch of a digital platform which transformed distribution services for the DBI product.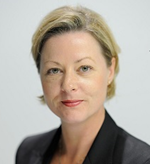 Angela Kelly, Chief Insurance Officer
Having held senior leadership roles in the insurance industry both locally and across the Asia Pacific region, Angela has extensive experience in delivering traditional and innovative insurance solutions to customers across a broad range of sectors.
Prior to joining VMIA, Angela was CEO of Lloyds of London in Singapore, responsible for coordinating the activities of the Lloyd's market development, regulatory and compliance, operations and finance teams.
Angela is passionate about the positive role the insurance sector plays in protecting and supporting the ambitions of people, businesses and communities. She has a deep appreciation of how insurance and other risk transfer mechanisms contribute to a resilient State.
Paul Dulfer, Chief Technology Officer
Paul is responsible for VMIA's technology, leading IT teams delivering solutions and services that support our client needs.
Paul has extensive experience working in Victorian State Government, previously holding Chief Information Officer roles at the State Revenue Office and Emergency Services Telecommunications Authority. He has worked as a consultant and application developer in London and Melbourne across a variety of industry sectors.
Charlotte Mills, Chief Services Officer and Chief Risk Officer
Charlotte leads the division responsible for providing insurance and risk management advice to our clients across the Victorian Public Sector. She is also responsible for enterprise risk management within VMIA.
A graduate of the AICD Company Directors Course, and with over 20 years' experience leading professional services teams across industries including financial services, construction, law and government. Her postgraduate qualification in organisational behaviour is a unique and complementary fit with contemporary risk management theories and methods.
Charlotte is passionate about improving our clients' experience through innovative service design, and in helping to build world-leading harm prevention and recovery practices in the Victorian Public Sector.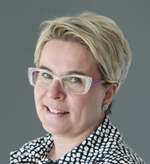 Frieda Esquelin, Chief Operating Officer and Corporate Secretary
Frieda leads the Business Operations division, responsible for people and culture, communications, government and stakeholder relations, legal, compliance and procurement. Frieda also supports the VMIA Board and has oversight of VMIA's corporate governance and regulatory functions.

Frieda is a practising lawyer with extensive experience leading legal and corporate functions in the public and private sectors in Australia and the Asia-Pacific. Her career spans industries including business outsourcing, IT, telecommunications, health & safety and insurance.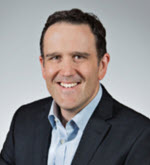 Wayne Kenafacke, Chief Performance Officer
Wayne joined VMIA in 2021 to lead its finance, actuarial and transformation functions. With an actuarial and finance background, Wayne has more than 25 years' experience across insurance, superannuation, funds management, retail banking and financial advice.
Wayne previously held senior finance roles in the insurance sector and provided strategic consulting services on mergers and acquisitions, capital restructures, and to the superannuation sector.