Starting small, finishing big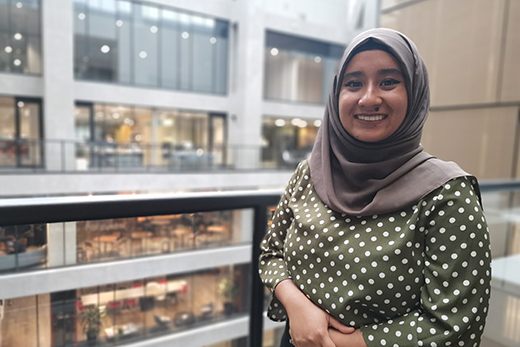 At VMIA, we support people at all levels to develop and move to where they want to be. Here, Acting Risk Adviser Shanaaz Mutaliph shares how she turned a temporary job into a new career path.
I started at VMIA as an administration officer for the team providing risk advice to Victorian community organisations. Initially, I was only contracted on a short-term basis. With my limited background in insurance, I didn't know then how much of an impact VMIA would come to have on my career.
The role gave me a unique insight into a career path I hadn't considered before – risk. Before long, I was given my first taste working in this evolving field when I took up a secondment as an Acting Risk Officer.
My new position has allowed me to connect my passion for the environment with my career. I'm undertaking a Masters of Energy Efficient and Sustainable Building and as part of my role at VMIA I support the Department of Environment, Land, Water and Planning to plan for their risks.
One of the benefits of working at VMIA is the hands-on experience on offer; I've been given many opportunities where I can comfortably test my limits. This has been a great way for me to identify my strengths and weaknesses and shows me the faith my team has in my professional capacity.
I am proud of what we do here, proud of how far I've come and proud to be part of a team that has such a genuine passion for their work, which is often reflected in our client's perception of us.
If you're interested in working for an organisation that values staff development email careers@vmia.vic.gov.au.