Future leaders emerge from VMIA program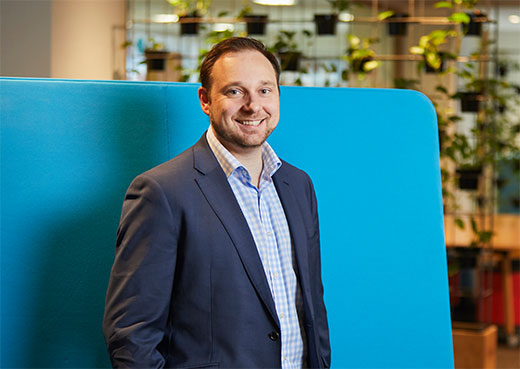 At VMIA we believe leadership is everyone's business. Our people, regardless of their role or experience, have the opportunity to motivate others to work towards our common goal – helping Victorians thrive.
One way we are nurturing peoples' leadership skills is through our internal development programs. In 2018, we completed our inaugural Emerging Leaders Program. Here, Actuary Andrew Kight shares his experience.
When I started working at VMIA, I wasn't sure if people management or leadership was in my future. But after graduating from VMIA's Emerging Leaders Program earlier this year, I felt confident to step into a leadership role and I'm proud to say I'm currently acting as a manager in the Analytics and Actuarial team.
The program gave 25 people from the across the organisation the chance to develop the skills and strategies needed to make us stronger leaders.
I found a lot of the topics focused on things you don't normally consider when you're at work, such as neuroscience, emotional intelligence and unconscious bias.
We also talked about how artificial intelligence, movements to improve gender equality, and the prevalence of remote workers are transforming the workplace; all current issues today's leaders need to embrace.
It was an opportunity for me to learn more about myself and how I lead. We were encouraged to reflect on our own thinking and behavioural styles, and then revisit how these had changed at the end of the program.
One of the key takeaways for me was a greater awareness of different working styles; we spent time understanding that everybody has different strengths and motivations and about the importance of this diversity. Through this, I also learnt a lot about myself, and how to best work with others by reflecting on what I do.
I understand that everybody has the responsibility of being a leader and because of the Emerging Leaders Program, I have a much clearer idea of what good leadership looks like.
Of those who completed the program, more than half have gone on to progress their careers in some way – including taking up leadership roles or higher duties.
As well as my acting role, I've had many other opportunities to use my new skills, including recently working in VMIA's strategy team to map out what our organisation will look like in 2024.
If you're interested in working for an organisation that values staff development and leadership opportunities email careers@vmia.vic.gov.au.