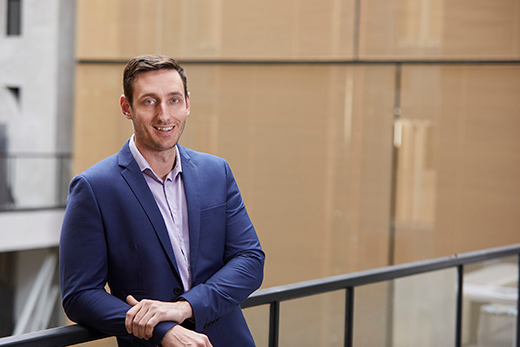 Joshua De Backer, Senior Risk Adviser (Department of Justice and Community Safety, Department of Premier and Cabinet, Department of Treasury and Finance)
Your team supports Victoria's emergency services, can you tell us a bit about this?
Our team works with the Department of Justice and Community Safety, which means we support a large base of emergency service providers, including police and firefighters, by providing risk services that support them to manage risks.
Our emergency services do an incredible job creating safer communities. Our role is about giving them the confidence in the face of risk and supporting them to recover when things don't go to plan.
We see ourselves as enablers of our clients' success. We give them the right knowledge and data to make informed decisions about their risks and insurance needs, so they can continue driving Victoria forward.
How did you come to join VMIA?
My background is predominantly in financial services. I started my career in banking and insurance while studying financial planning, and eventually moved into the arena of insurance underwriting and claims soon after.
Coming from a background in financial services I had an industry limited view about risk management. It was part of the reason I applied at VMIA, to experience a broader viewpoint.
I feel very lucky to have ended up at VMIA. It wasn't something I could have foreseen, but I'm very grateful to be here now. VMIA is the kind of organisation that puts its clients and employees at the heart of everything it does.
Our five-year strategic plan – Strategy 2024 – was launched this year, can you tell us a bit more about your role in developing it?
I had only been here a matter of months when I put my hand up to help develop Strategy 2024 - our five-year strategic plan that articulates the value we seek to create for our clients.
One thing I have learned in my career here and would pass onto others is to grasp any opportunity that comes your way. Now, looking back and seeing how far we've come, I can honestly say it was well worth it.
We, as the Strategy 2024 project team, had a complex task ahead of us. For me, that involved looking outside of VMIA at what other government entities like us were doing to see what we could learn from them.
As a relatively new employee at the time, it was a unique way to understand where we were at as an organisation and to see where we could go.
If you're interested in a career as a risk adviser, stay up to date on our latest career opportunities.