VMIA welcomes new CEO
Andrew Davies announced as VMIA's new Chief Executive Officer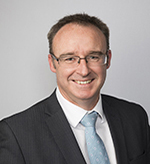 We're excited to welcome Andrew Davies as our new Chief Executive Officer. Andrew replaces Colin Radford, who joined WorkSafe Victoria as CEO in November 2019.
Formerly our Chief Insurance Officer, responsible for VMIA's insurance, reinsurance, claims and insights activities, Andrew brings a deep understanding of our business, strong client relationships and passion for delivering real value for the State of Victoria.
Starting in the role in early February, Andrew has brought vital continuity to ensuring our clients are covered, confident and connected.
"VMIA has established a clear direction for the future, centred on building high-value partnerships and delivering world-leading risk advice and insurance solutions that help Victorians thrive," says Andrew.
"I look forward to working with the VMIA Board, our people and, importantly, our clients across the state to realise this vision."
Since joining VMIA in 2015, Andrew has led the continued development of VMIA's risk and insurance offering. With a background in management consulting and change leadership, Andrew has worked globally in executive roles across a diverse range of industries.
This is the first time VMIA has appointed a CEO from within the organisation.
Introducing VMIA design lab, a new way to collaborate
on insurance and risk solutions
At VMIA, our clients are at the centre of everything we do.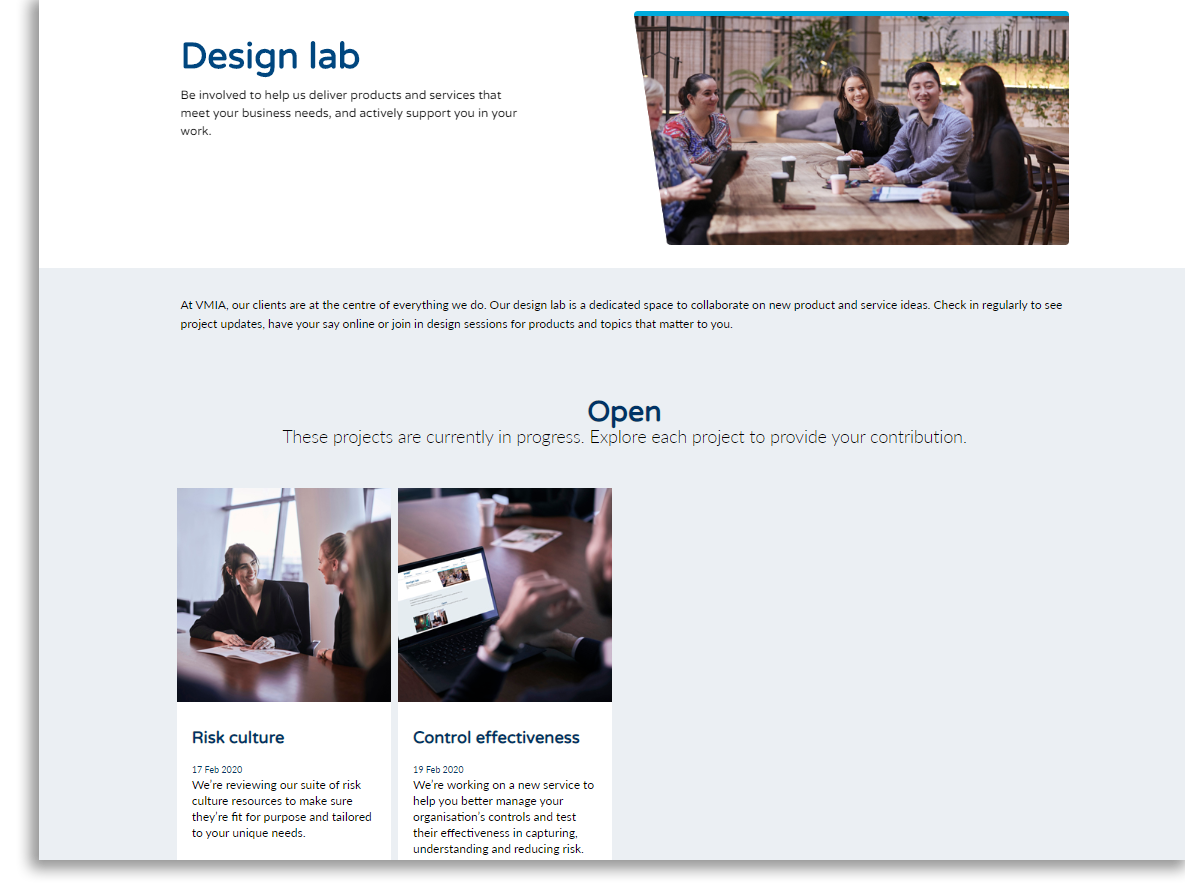 That's why we're launching a dedicated space to collaborate on new product and service ideas.
Our design lab is all about working with our clients to deliver products and services that meet your business needs, and actively support you in your work.
Through the design lab you'll be able to provide input at key stages of service development to help shape and refine new products design sessions for products and services that matter to you.
Get involved!
We're currently working on refreshing our risk culture resources and developing new tools for assessing and managing control effectiveness. These projects are now open for consultation – visit design lab to find out more and share your views via the online surveys.
Check in regularly to connect with new products and services as they are developed and hear about the key initiatives that will meet your risk advisory and insurance needs.
VMIA IQ closes this Friday 28 February
Our annual Insurance Questionnaires are just one of the ways we work with you to better understand your business and ensure you have the right level of cover to meet your needs.
If you are required to complete the 2020/21 Insurance Questionnaire (IQ), including VicFleet and other Motor Vehicle questionnaires, the questionnaire will close on Friday February 28.
By keeping us informed of any changes to your organisation's assets or activities, you'll help ensure that your 2020/21 premium is accurate.
Please refer to our previous communications for links to access your individual login. If would like to update your IQ contact details or require any assistance, please call us on 03 9270 6900 or email us at contact@vmia.vic.gov.au.
You can also take a look at our FAQ for more information.
Cyber Risk Foundations workshops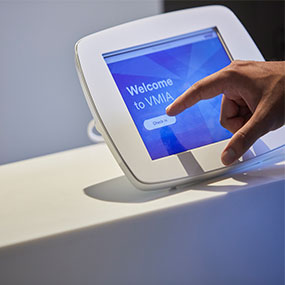 Cyber risks affect every individual and industry. How do professionals outside of IT manage these risks in the modern landscape?
Global cyber security firm, RSA, states "Cyber risk is an issue that exists at the intersection of business risk, regulation, and technology."
Ensuring business synergies and collaborative approaches for all teams within an organisation is key to effective management of cyber risk. Training and education around cyber security and awareness forms the basic foundation for all professionals.
Where do I start?
Our Cyber Risk Foundations Workshop is designed to break down cyber risk for non-IT public sector professionals. The workshop will see participants build confidence in advocating cyber risk as a strategic risk. Participants will also explore best practice principles for cyber risk management and government expectations of public sector organisations. Following the training, participants will be better equipped to assess and manage cyber risk in collaboration with their IT divisions and information management specialists.
Recent comments from workshop participants:
"The content was easy to understand and it was a very interactive session. The topics were interesting and it's good to hear discussions from other similar organisations."
"Well facilitated, informative, relevant to today's professional context and challenges."
We'll also be hosting a regional Cyber Risk Foundations workshop in Bairnsdale on March 18, as well as a wide range of risk management and insurance workshops throughout March. To sign up to the next workshop in your local area, view our program.
We've made it easier to complete RMA Online this year.
Regularly reviewing your risk management practices with RMA Online ensures they're fit for purpose for your organisation and its activities.
What are the benefits of RMA Online?
RMA Online can help you:
Review your internal risk management practices
Create a tailored action plan to make improvements
Compare your results from year to year
Benchmark your organisation against similar organisations so you can track trends and compare how your organisation is doing comparatively
If you completed the 2018-19 assessment, your responses to RMA Online will have automatically rolled over from your previous submission. You can review your 2018-19 responses and, where required, update your assessment to reflect any changes. Alternatively, you can start a blank RMA Online self-assessment.
We're here to help you with RMA Online
Feedback
Have a topic that you'd like us to cover in future editions or perhaps have feedback to provide? Contact us at communications@vmia.vic.gov.au.